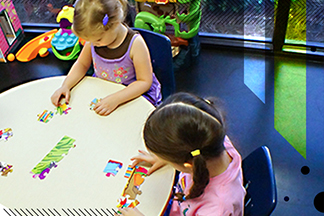 Available to Members & NON-Members (additional fees may vary) Call us for details: 318.329.9100
• Pool Parties
• Yoga Parties
• KidsFit Camps
• Personal Training
• Swim Lessons
free child care!
The Kids' Korner welcomes children 6 months to 12 years old to our members for up to 2 hours each day. Parents must remain in the Center while the child is in the Kids' Korner. Parents will complete a registration form for each child and sign a safety rules and regulations form. Parents must always sign their child in and out. Complete policies and rules are available in the Kids' Korner.
MONDAY - FRIDAY: 8:00AM-1:30PM | 3:30PM-7:30PM
SATURDAY - 8:00AM-11:30AM
IF YOU ARE FIRST-TIME USER OF OUR KIDS KORNER CHILDCARE, PLEASE PRINT OUT THE FORM BELOW AND HAVE IT FILLED OUT BEFORE YOUR FIRST VISIT TO THE KIDS' KORNER.