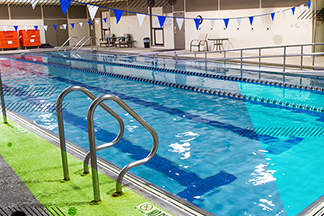 Open year-round!
Aqua Group Fitness Classes are scheduled 6 days a week with plenty to choose from. Need to get some laps in? Two lanes are open for lap swimming while classes and/or events are taking place in the large lane.
The best pool parties are here!
No need to worry about getting rained out or needing sunscreen - the weather is always great in our indoor temperature-controlled pool. Enjoy an hour and 30 minutes to swim and play! CPR certified staff is on duty for the duration of the party. There are chairs beside the pool for parents and a new additional room available for cake and gifts. Party price is $150 for 15 children ($5 for each additional child). Remind your guests to bring their own towel, as Wellness Center towels are not supplied for birthday parties.
Available party times are:
• Fridays 8:00pm-9:30pm
• Saturdays 6:00pm-7:30pm
• Sundays 5:00pm-6:30pm